Board & Members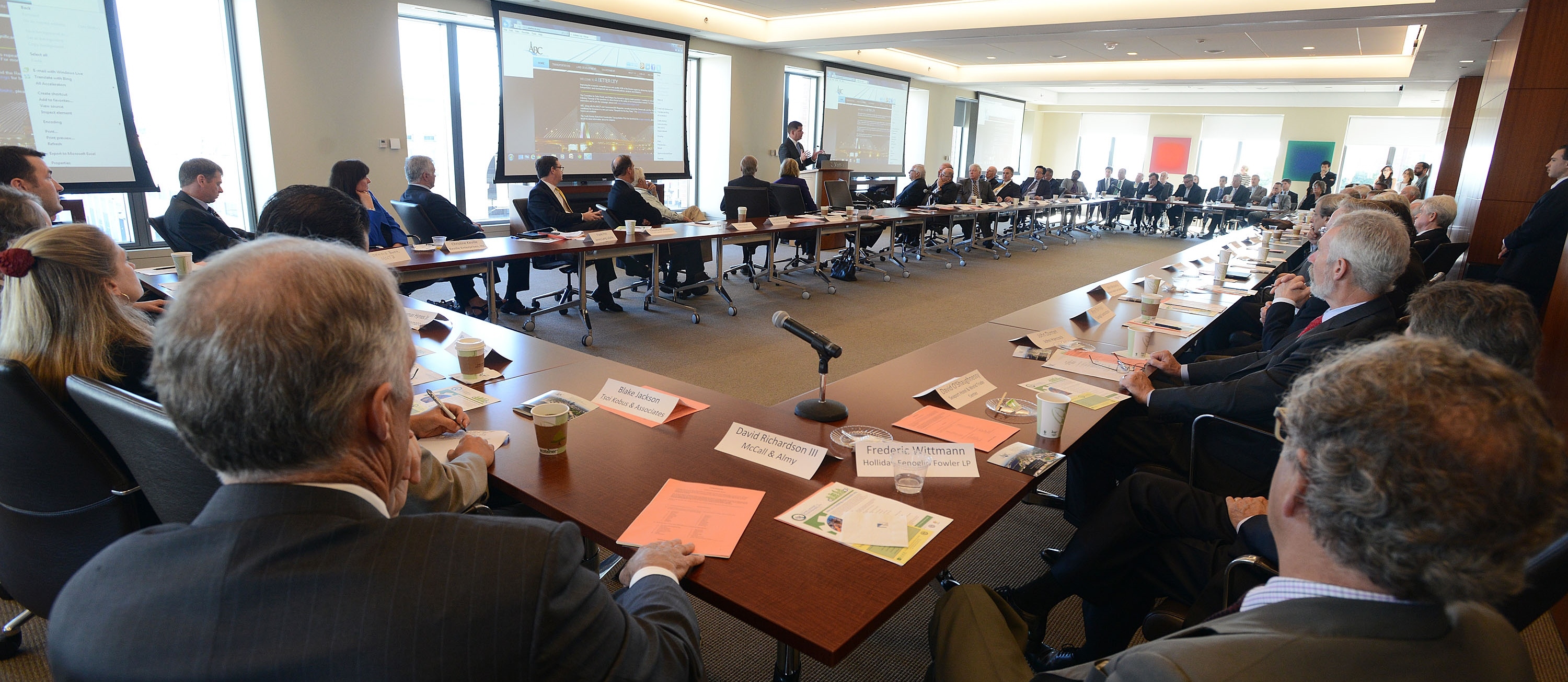 Officers:
Board of Directors:
Zamawa Arenas
Principal
ARGUS
Katharine Bachman
Partner
WilmerHale
Eugene M. Bard
CEO
Bard, Rao & Athanas
*Robert L. Beal
President
Related Beal
Jeffrey P. Beale
Chief Administrative Office/VP
Eaton Vance Management
Milton Benjamin
President
KAGE Growth Strategies, LLC
Robert Biggio
Vice President of Development
Boston Medical Center
Wayne M. Bouchard
Chief Operating Officer
Museum of Science
Chad Boulay
Director of Property Management
Synergy Investment & Development
Kevin Boyle
Senior VP for Commercial Real Estate Lending
Citizens Bank
Phillip Brake
Senior Vice President
HNTB
*Philip J. Brannigan, Jr.
Managing Director
Beacon Capital Partners
Donald T. Briggs
Senior Vice President Development
Federal Realty Investment Trust
Kelley Brown
Senior Project Manager, Construction
Massachusetts Institute of Technology
Kara L. Buckley
Communications Leader, Global Shave Care
P&G/Gillette
Charles Buuck
Vice President & General Manager
Turner Construction Properties
Larry Cancro
Senior Vice President, Fenway Affairs
Boston Red Sox
*Joseph Carroll
Director, Community Care & Customer Management
National Grid
Donald Chiofaro
President & CEO
The Chiofaro Company
Jeff Cook
Vice President, Real Estate Operations
Fidelity
Andrew Dankwerth
Senior Vice President, Design & Development
Pembroke Real Estate
Jonathan G. Davis
Chief Executive Officer
Davis Companies
Geri Denterlein
President
Denterlein Worldwide
*Lawrence S. DiCara, Esq.
Partner
Nixon Peabody LLP
Michael Donovan
Senior Vice President for Real Estate Management
Boston University
Caroline Downing
Vice President
AECOM
*John E. Drew
President & CEO
Drew Company, Inc.
*Ronald M. Druker
President
The Druker Company, Ltd.
John Fernandez
President & CEO
Massachusetts Eye and Ear Infirmary
Roderick Fraser
Director, Regional Energy Business Development
Veolia Energy North America
Richard Galvin
Founder & President
CV Properties
Wendy Writer Gettleman
Vice President, Facilities Management & Real Estate
Dana Farber Cancer Institute
Dana Griffin
Regional Vice President
Jamestown, L.P.
Lisa Hartman
Principal Environmental Engineer
Genzyme Corporation
Richard Heller
Senior President
Legal Sea Foods
Nigella Hillgarth
President & CEO
New England Aquarium
Les Hiscoe
Chief Executive Officer
Shawmut Design and Construction
*John Hoey
Community Relations & Economic Development Specialist
Eversource
John B. Hynes, III
President & CEO
Boston Global Investors LLC
*Thomas J. Hynes, Jr.
Co-Chairman & CEO
Colliers International
*Mark Johnson
Vice President for Harvard Planning and Project Management
Harvard University
*William Kane
VP of Leasing & Development
BioMed Realty Trust, Inc.
*James Keefe
Principal & President
Trinity Financial
Jay Kiely
Property Manager
Forest City
Richard N. Koch
Condominium Trust Association
Intercontinental Hotel & Residences
Sandra Lally
Regional Director, Operations
Oxford Properties
Edward M. Lambert, Jr.
Vice Chancellor for Government Relations & Public Affairs
University of Massachusetts Boston
*Kevin Lemire
Senior VP, Director of General Services
Putnam Investments
Jeff Lockwood
Global Head, Communications
Novartis
Eustacia Reidy MacNaught
Vice President, External Affairs
Vertex
*Christopher W. Maher
Vice President of Development
Delaware North Companies
Jay McQuaide
Senior Vice President
Corporate Communications
Blue Cross Blue Shield of Massachusetts
John Messervy
Director of Capital & Facilities Planning
Partners HealthCare System, Inc.
Joel Mooney
General Manager, Senior Vice President
Haley Aldrich
*Michael E. Mooney, Esq.
Chairman
Nutter, McClennen & Fish, LLP
Timothy G. Murnane, Esq.
V.P. of Government & Community Relations
Comcast
Thomas O'Brien
Managing Director
The HYM Investment Group
David N. O'Shaughnessy
President & Managing Director
Seaport Hotel & World Trade Center
Laura Onessimo
Vice President, Business Development
Skanska USA
*Young Park
President & Principal
Berkeley Investments, Inc.
Bruce Pearson
Managing Director, US Corporate Real Estate
John Hancock
*David G. Perry
Senior Vice President
Hines
Fred Peterson
Interim Executive Director
Massachusetts Convention Center Authority
John Pierro
Senior Vice President of Facilities and Operations
Brigham & Women's Hospital
Michael J. Roberts
Vice President, Development
Avalon Bay Communities, Inc.
Macey Russell
Partner
Choate Hall & Stewart, LLP

Steven Samuels
Chairman & Principal
Samuels & Associates
Samuel Schaefer
Managing Director
Tishman Speyer Properties
James H. Shane
President
Shane Associates, Ltd.
*Mark Smith
Managing Market Director
Equity Office Properties
Edward Steinborn
Chief Financial Officer
Wellington Management
Eric Svenson
Managing Partner
Broder
Donald Svoboda
Asset Management
Metlife
Kevin Tabb
President and CEO
Beth Israel Deaconess Medical Center
James M. Tierney
Managing Director, New England
Jones Lang LaSalle
*Dana Warren
Senior Vice President
Federal Reserve Bank of Boston
Clayton Webb
Vice President, Regional Asset Manager
State Street Corporation
Charles Weinstein
Vice President for Real Estate, Planning and Development
Boston Children's Hospital
John Welby
General Manager
Old Town Trolley
Karen Whiteknact
Senior Vice President & Manager
Liberty Mutual
Frederic E. Wittmann
Senior Managing Director
Holliday Fenoglio Fowler, LP
*Frank Wuest
Principal
Marcus Partners
Joseph H. Zukowski
Vice President, Public Affairs
Verizon Communications
Associate Members:
Thomas Andrews
Senior Vice President
Alexandria Real Estate Equities, Inc.
Brian Barringer
Project Development
Consigli Construction
Thomas J. Bauer
Managing Principal
Hub Holdings, LLC
Peter Bloomfield
Partner
KPMG LLP
Philip Casey
Associate Principal
CBT Architects
James Cassetta
Director & CEO
WORK, Inc.
Carole Charnow
President & CEO
Boston Children's Museum
Robert Curry, Esq.
Independent Consultant
Brian Dacey
President
Cambridge Innovation Center
Daniel Dain
Chairman & President
Dain, Torpy, LeRay, Wiest & Garner LLP
Rosalind Gorin
President & CEO
H. N. Gorin, Inc.
Ray Hammer
President & CEO
Westin Copley Place
Jane V. Hawkes, Esq.
Partner
Bowditch & Dewey
Justin Holmes
Director, Corporate Communications & Public Policy
Zipcar
Geoff Howell, Esq.
Partner
DLA Piper
Douglas M. Husid, Esq.
Co-Managing Director
Goulston & Storrs P.C.
Blake Jackson
Sustainability Practice Leader
Tsoi/ Kobus & Associates
Michael Jorgensen
General Manager
Westin Boston Waterfront Hotel
Christine Keville
President & CEO
Keville Enterprises, Inc.
Frederick Kramer
Vice President, Commercial U.S.
Stantec
Rebecca Lee, Esq.
Partner
Locke Lord LLP
Bodo Liesenfeld
Chairman
Menck Windows
David Manfredi
Principal
Elkus Manfredi Architects
Rick Matilla
Independent Consultant

Pamela Messenger
General Manager
Friends of Post Office Square
Neil Middleton
President
TRO Jung/Brannen Associates
Adam Mitchell
Partner
Save That Stuff
Matthew V. Moore
Director of Hotel Operations
Boston Marriott Long Wharf
Susan Morelli
President & CEO
Au Bon Pain Corporation
Christopher Peabody
President
Peabody Office Furniture, Inc.
Jeanne Pinado
Executive Director
Madison Park Development Corporation
Dusty Rhodes
President
Conventures, Inc.
Wilson Rickerson
CEO
Meister Consultants Group
Valerie Roberson
President
Roxbury Community College
David Rubin
Managing Partner
Hinckley, Allen & Snyder LLP
Kelly Saito
President
Gerding Edlen
Gurkirat Singh
General Manager
W Boston Hotel
John Slater
Partner
Sherin & Lodgen, LLP
Angela Vento
General Manager
Sheraton Boston Hotel
Tom Walsh
General Manager
Renaissance Boston Waterfront Hotel
Terry Worden
General Manager
Boston Marriott Copley Place