Sustainability Showcase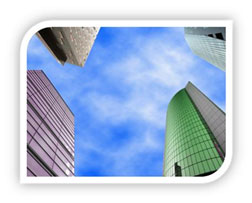 ABC's Sustainability Showcase highlights Boston area businesses, institutions, and buildings that are leading the region in the adoption of sustainability best practices and principles.
The Sustainability Showcase provides attendees with a unique hands-on learning experience at selected facilities, on topics specific to the facility. In addition, the events will include a guided tour of the facility to see the practices in action.
To nominate a facility for a future Sustainability Showcase event please submit the Sustainability Showcase Nomination Form

to ABC.
Upcoming Showcase Events
| Date | Facility Information | Details |
| --- | --- | --- |
| TBA | TBA | TBA |
Previous Showcase Facilities
Genzyme Center
Genzyme Center, the corporate headquarters for Genzyme Corporation, received the highest rating issued by the U.S. Green Building Council. Genzyme Center earned a Platinum certification under the Council's LEED®.
Genzyme Center combines innovative design and cutting-edge technology to achieve two goals: creating an exciting new workplace for more than 900 Genzyme employees, and setting a new standard in environmentally responsible architecture.
Museum of Fine Arts
The MFA is one of the most comprehensive art museums in the world; with nearly 450,000 works of art. The MFA welcome more than one million visitors each year.
The MFA is embarked on an ambitious Campaign and Building Project. Designed by the world-renowned Foster and Partners architects, the New MFA comprises a new wing and renovated galleries; improved conservation and education facilities; and a new, larger public space—the Glass Courtyard.
The MFA has had the challenge of integrating green builiding and sustainability practices in a museum enviroment that requires strict temperature and humidity controls 24/7/365.
TRO Jung|Brannen
TRO Jung|Brannen, one of the largest international architecture/engineering firms, created its new headquarters as a model of green design, adhering to Boston Mayor Menino's call for a sustainable ciy. Many of the sustainabile elements employed in the new office are either zero-net cost or a cost savings. And judging by visitor and staff comments, the results are extremely positive.
TRO Jung|Brannen engineers designed sustainability into all of the office systems. TRO Jung|Brannen interior designers worked closely with Structure Tone in selecting certified green and sustainable materials and finishes.
Seaport Hotel
An example in eco-tourism. The Seaport Hotel's, Seaport Saves, is a groundbreaking environmental program dedicated to increasing sustainability and conservation throughout all aspects of the organization. We encourage our guests, team members and vendors to embrace and practice an environmentally-sensitive lifestyle. It is possible to coexist in a delicate balance with the natural world while providing world-class service in a luxurious setting.
The Seaport Hotel is the first New England location to utilize the BioX organic waste system.
Additional Information
Prudential Center - Boston Properties
The Prudential Center is a dynamic mixed use urban complex in the heart of Boston's Back Bay, visited by 60,000 people every day and with 8,000 office occupants in its three towers. Boston Properties is committed to improving its natural resource efficiency and demonstrating that operation of commercial real estate can be conducted with a conscious regard for the environment. To support this commitment, the Center's team is focused on energy efficiency, waste reduction, water conservation and the total reduction of carbon emissions, all within the context of a mixed-use, mixed-vintage project. Open and operating 24 hours a day, 365 days a year, attached to four hotels, the T, and a convention center, the Prudential Center is a true Boston icon.