Sustainability
Energy Policy
A Better City is committed to net zero business operations by engaging in energy conserving behavior, utilizing alternative commuting methods, investing in energy efficiency and lastly, offsetting 100% of electricity consumption, employee commuting and business travel.
Awards and Recognition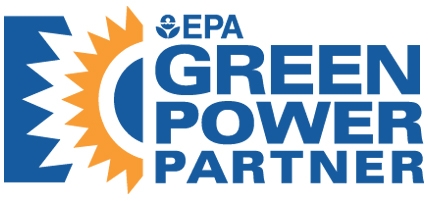 A Better City offsets 100% of its electricity use with wind power renewable energy credits.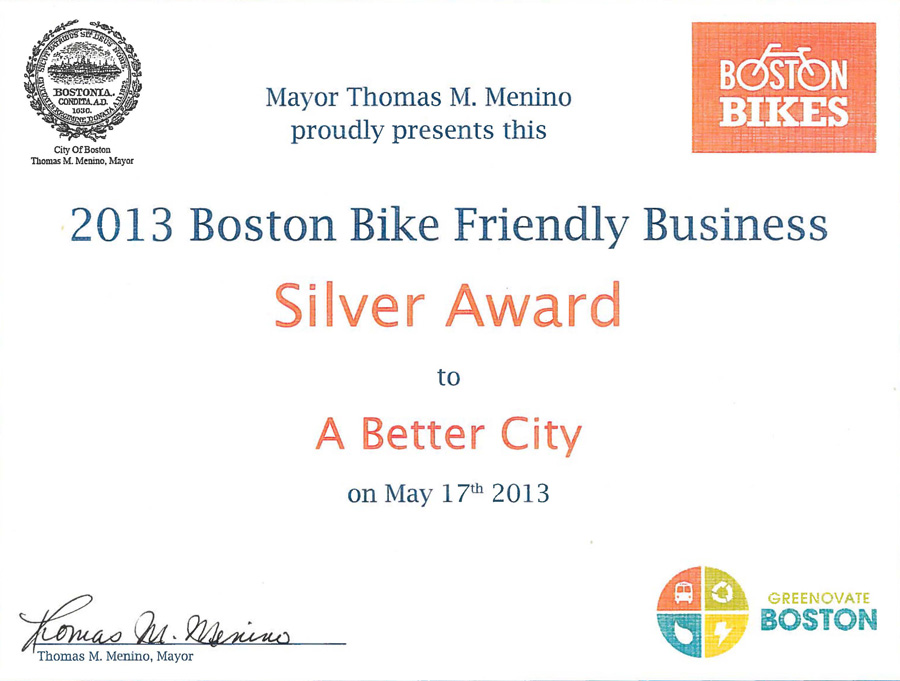 A Better City was recognized as a Silver Bicycle Friendly Business from the City of Boston in 2013.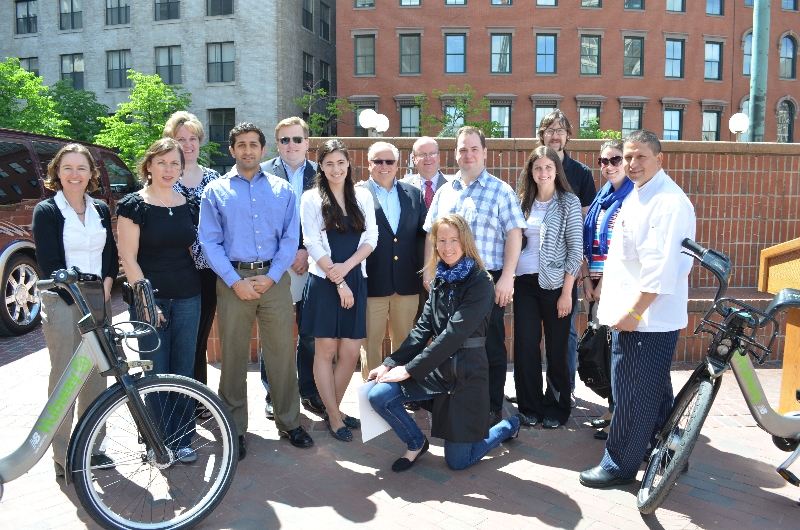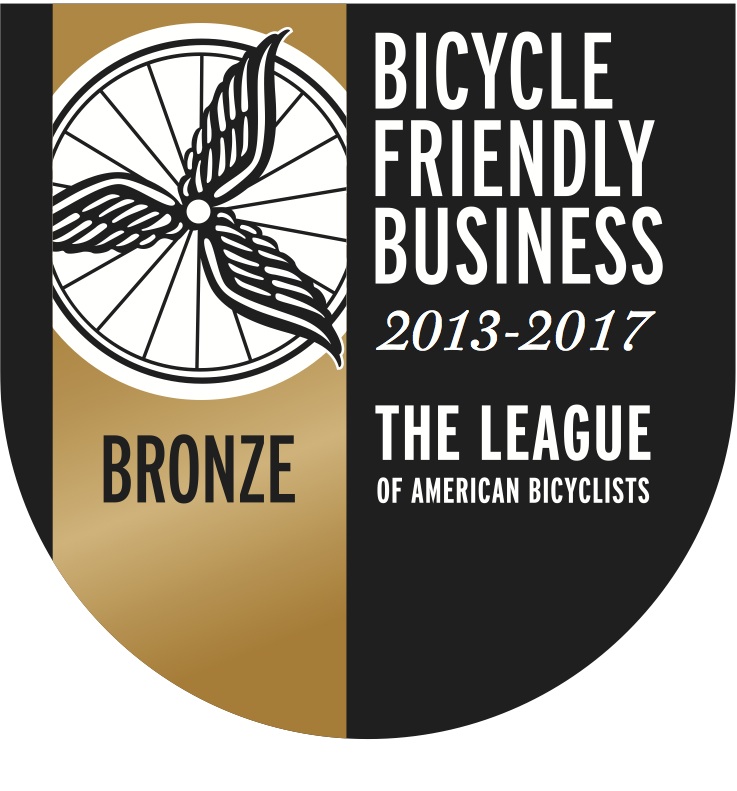 ABC employees who bike to work or meetings enjoy the following benefits:
Hubway Gold Membership
Federal Bike Benefit ($20 subsidy per month)
Bike pump, pannier and back up lights
We are working towards a Silver Bicycle Friendly Business Award by The League of American Bicyclists for the 2018!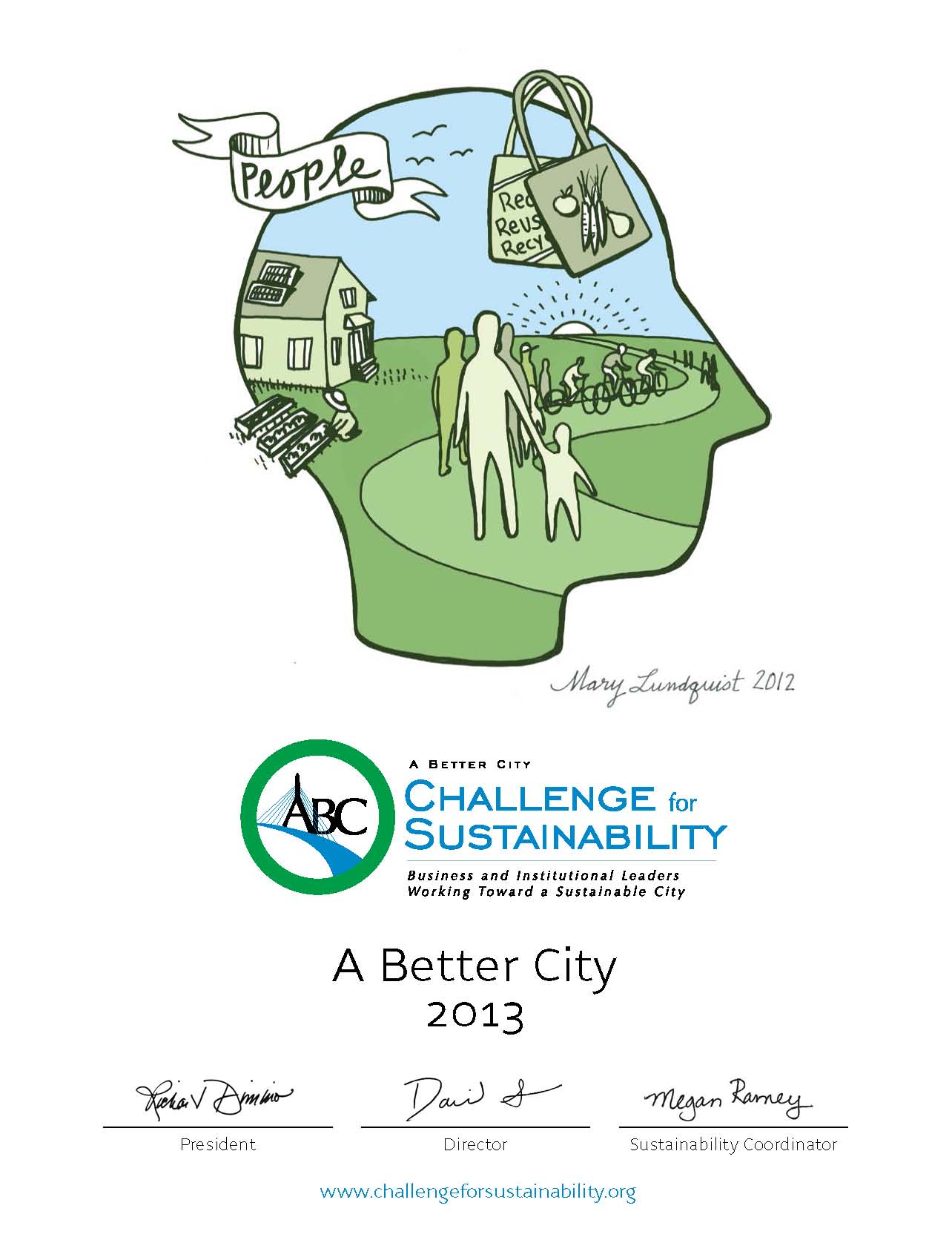 ABC not only hosts the Challenge for Sustainability, but we also walk the walk as a member of the Challenge since the pilot year of 2010. Since joining the Challenge, we have increased our sustainability score from 23 to 71, while decreasing our electricity consumption by 32% (Aug 2009 - Jul 2010 versus Aug 2012 - Jul 2013).
We received the "People & Culture" certificate at the 2013 Challenge Awards for the staff's continued engagement in sustainable behavior in the office.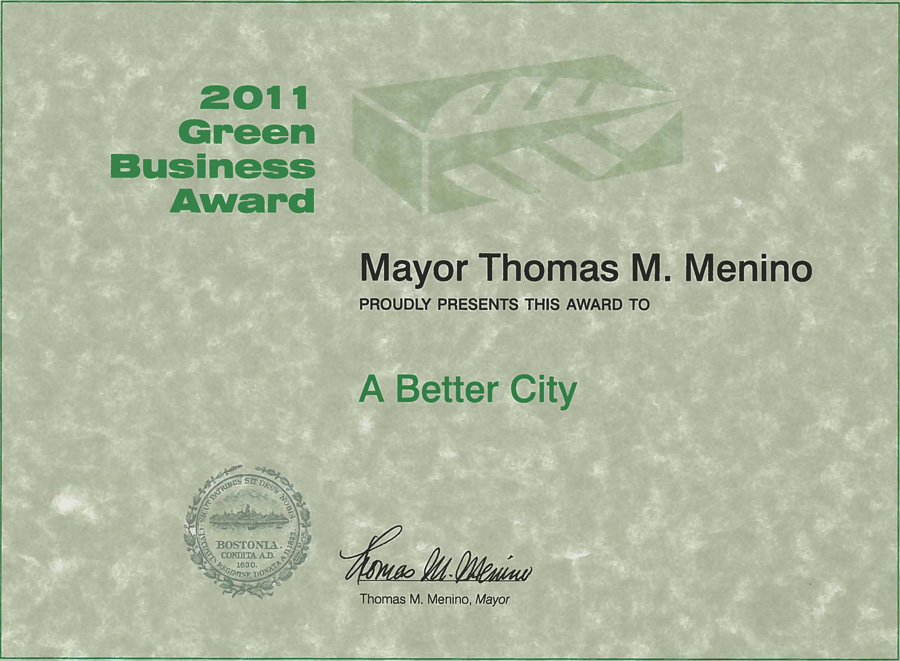 Green Business Awards were given to 12 businesses in 2011 that demonstrated extraordinary performance related to sustainable environmental practices.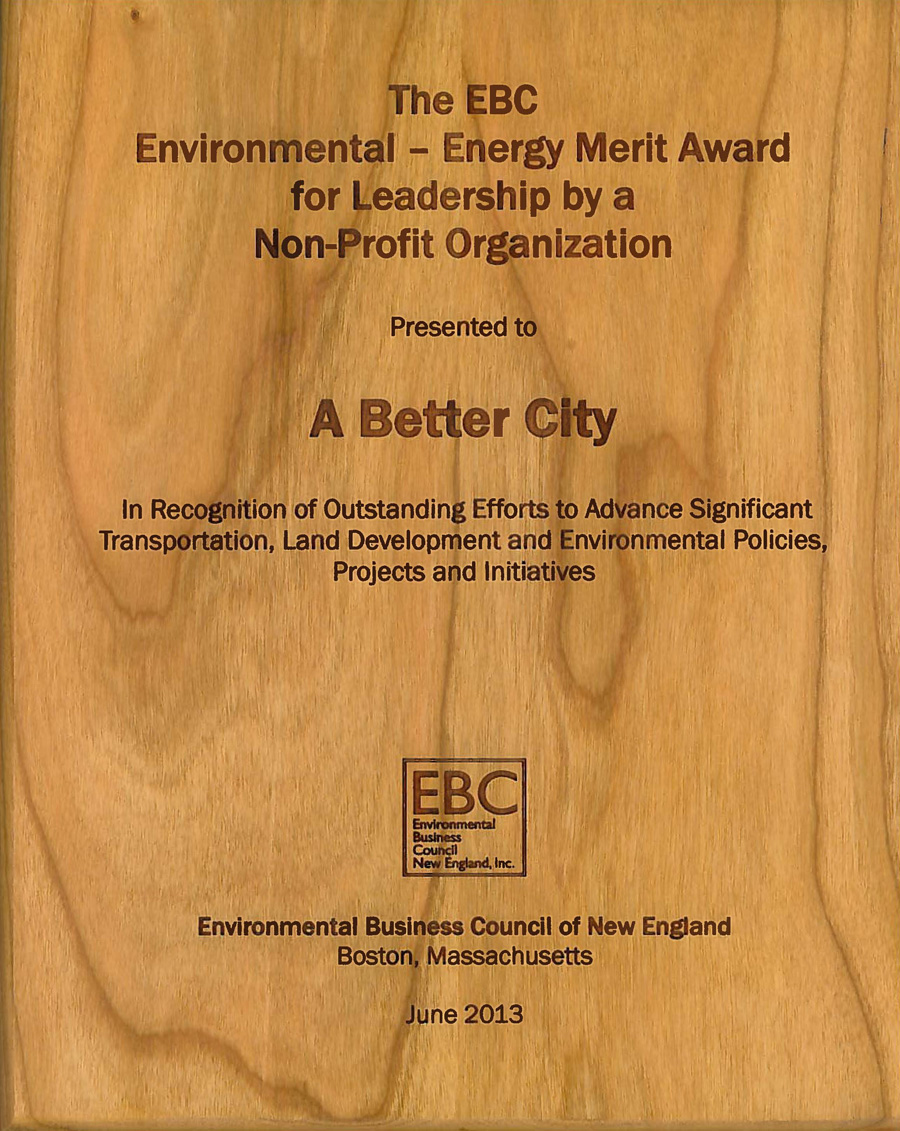 ABC was honored to receive the 2013 EBC Award from Environmental Business Council New England for our outstanding efforts to advance significant transportation, land development and environmental policies, projects and initiatives.
Environmental Policies and Procedures
Energy
Reduce electricity consumption every year
Offset 100% of electricity bill with renewable wind power
Turn off computers and monitors before leaving the office at the end of the day
Set computers to sleep mode if the employee will be absent for 30 minutes
Vacuum the refrigerator coils during our bi-annual office cleaning
Set thermostat deadzone of 68 - 74 degrees
Draw shades during the summer to avoid solar heat
Take advantage of daylighting and turn off office lighting
All non-essential appliances, electronics and equipment are equiped with plug in timers that turn them off during nights and weekends
Purchasing
Purchase beverages in bulk containers and provide reusable glassware, plates, silverware and napkins for catered meetings and events
Procure food from local providers like Blue Glass Cafe, Flour or Boloco for catered meetings and events
Procure office supplies from local vendor, Union Office
For external print jobs, soy-based ink and 100% post consumer waste printer, Recycled Paper Printing, Inc.
Consider fold & mail style for marketing materials to eliminate envelope.
Water
Conserve water when washing hands or dishes
Provide filtered water and juice in carafes for catered meetings and events
Transportation
Employees are allowed to park their bikes inside the office during inclement weather
Employees are encouraged to walk, bike or take transit to meetings and events
A Better City pays for half of employees' monthly transit passes
A Better City provides the federal bike benefit of $20 per month
A Better City is a Gold Corporate member of Hubway, providing employees fully subsidized annual memberships
A Better City will offset 100% of employees' commute and business travel
All documents and packages being delivered locally will utilize bicycle courier services: Marathon and USA Courier for documents and Metro Pedal Power for packages.
Waste
Bring reusable bags when purchasing meals
Provide French press coffee for breakfast meetings
Ask lunch meeting invitees to RSVP to reduce food waste
Host zero waste lunch meetings (forgiving the disposal of recyclables)
Avoid printing when not necessary
Set printers to produce double sided pages and eliminate printing banner pages
Include a green printing request in all email signatures:
If you need to print this email or any attachments, reuse and recycle the paper
Recycle all eligible paper materials, including white and fax paper, post-it notes, envelopes, junk mail, newspapers and cardboard
Recycle all eligible plastic, aluminum and glass materials
Use reusable glasses, mugs, napkins and towels
Recycle all CFL bulbs, batteries and electronic waste in hazardous waste bins in printer room
Sign up to a junk mail elimination service like DMAchoice.
Partnerships & Affiliations
Challenge for Sustainability

A Better City not only hosts the Challenge for Sustainability program to our members and businesses in the City of Boston, but we are an active participant in the program. During 2010, we raised our Challenge score from a 24 to a 43, an increase of 85%. This was accomplished by engaging in the following environmental initiatives:
Made custom draft stoppers for windows to increase comfort, reduce noise and reduce building owner's gas expense.
Instituting a buy local policy
Developed green policies and procedures (seen above)
Hired a sustainability coordinator
Establish a green team
Coordinate sustainability efforts with property manager
Institute a sustainability pledge
Provide secure and covered bike parking
Installed faucet aerators on sinks
Turn off or remove non-essential lighting
For 2011, we have an aggressive action plan in the hopes of increasing our score by 15%.
U.S. Green Building Council member since 2010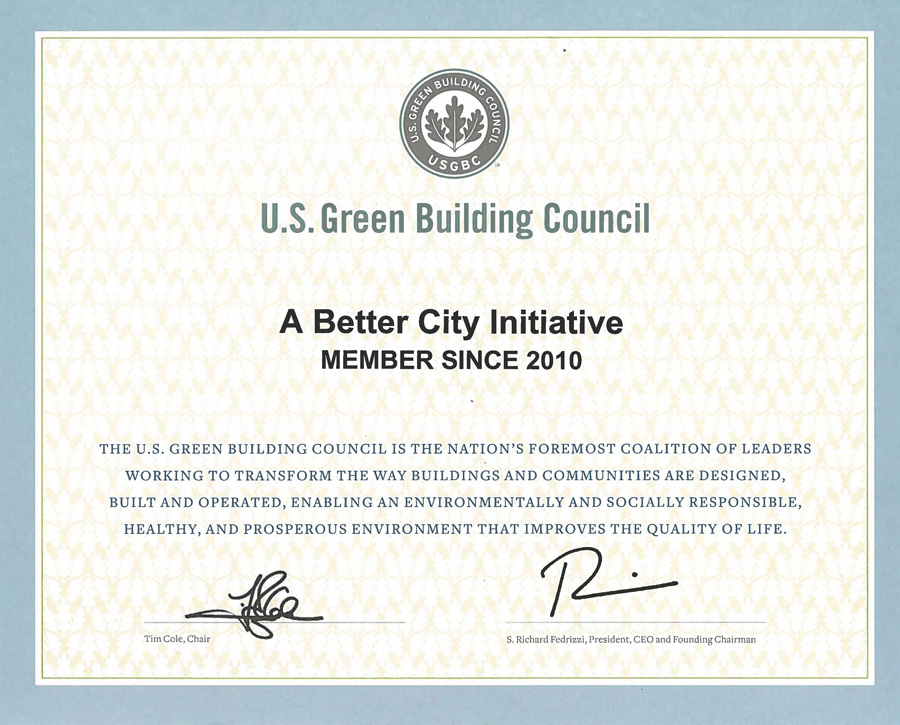 Sustainable Business Leaders Program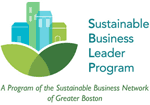 A Better City is excited to announce its acceptance into the Sustainable Business Leader Program (SBLP). The organization has committed to implementing sustainable business practices and reducing its carbon footprint through SBLP's comprehensive program, which addresses seven areas: waste reduction; water conservation; energy conservation; transportation mitigations and pollution prevention; local procurement & local food; and sustainability management. As part of the program, A Better City has created a "Green Team" of staff volunteers to enact these changes and help "green" the company's on-going behavior, culture and company mentality.
The SBLP was formed in 2008 through collaboration between the Department of Environmental Protection and the Boston Redevelopment Authority. It has worked with more than 60 businesses across Greater Boston, guiding them towards becoming environmentally sustainable leaders in the community. Each business completes SBLP's rigorous assessment and receives personalized technical assistance over a six-month period prior to achieving eligibility for Sustainable Business Leader certification.
Carbonfund

Carbonfund.org is A Better City's provider of carbon offsets for annual employee commutes and business travel, yielding 5 tons of carbon.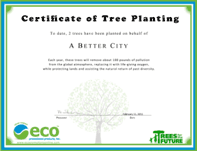 Eco-promotional Products is A Better City's vendor for our annual Challenge for Sustainability recognition party. In 2010, this company supplied A Better City with recycled glass and bamboo awards, and planted trees on A Better City's behalf (certificate

).