Sustainability In the office at abc
Policies & Procedures
A Better City (ABC) is committed to sustainability not just in the programs it offers – Challenge for Sustainability and ABC's Transportation Management Association (TMA) – but in the actions it takes.  An active Green Team works on an action plan developed annually to:

Increase energy efficiency;
Reduce resource consumption;
Decrease solid waste;
Promote sustainable transportation options;
Reduce overall greenhouse gas emissions; and
Provide a sustainable environment for employees.

In 2014, ABC will create:

An annual Corporate Sustainability Report;
An environmental purchasing policy;
A corporate / organizational goal for GHG reductions;
An updated energy management plan; and
A health and wellness policy for inclusion in a new hire manual.
Energy Reduction Actions

Non-essential appliances, electronics and equipment have plug in timers that turn them off during nights and weekends.
Computers and monitors are turned off before leaving the office.
Computers are set to enter sleep mode when employees are not utilizing them.
The thermostat deadzone is set to 68-74 degrees.
Shades are drawn during the summer to avoid solar heat.
Lights are turned on only when needed.
Refrigerator coils are cleaned twice a year.
As a result of these actions, ABC's electricity consumption has seen significant reductions from 2010, while staff levels have increased.
A Better City's Electrical Use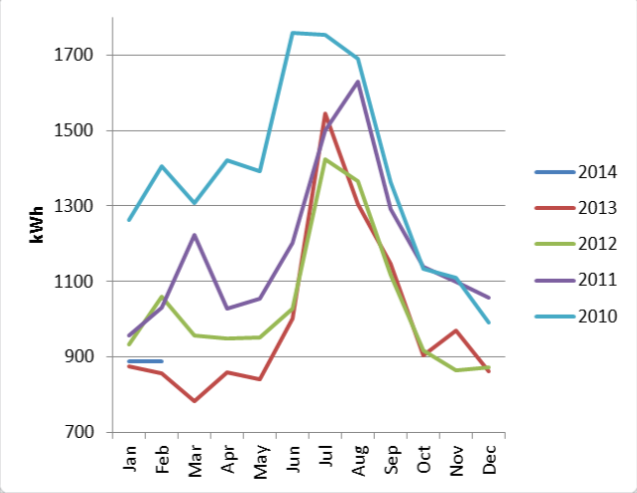 In 2014, ABC will:
Pilot a behavior change program to further reduce energy consumption.  Using a goal setting behavior change tool, ABC staff has made individual commitments to reduce energy, measured as reductions in GHG emissions.  This includes commitments to: reducing electricity use by developing window treatments to limit heat loss, reducing single vehicle miles travelled by using hubway bikes or walking to business meetings when location and weather permits; and using alternative transportation wherever possible for longer range business travel.
Purchasing Actions

Organic fruit is purchased for staff bi-weekly.
Green cleaning products are purchased for office use.
Beverages for meetings are purchased in bulk,
Food for meetings and events are purchased from local eateries; catering trays are reused.
Office supplies are purchased from local providers; Ink cartridges from the photocopier are recycled.
External print jobs are sent to printers using vegetable-based ink and recycled paper wherever possible.
In 2014, ABC will: 

Work with the property owner to develop a building wide green cleaning policy including training for cleaning crews, and the use of 3rd party certified green cleaning supplies and 100% recycled paper towels in bathrooms.
Use a non-chemical pest management service for office plants.
Water Actions

Filtered water is provided for meetings / events and general staff use.
Dual flush toilets are used, where possible.
Faucet aerators are installed on sinks.
In 2014, ABC will: 

Purchase a soda stream to reduce the purchase of bottled soda water for meetings and staff. 
Transportation Actions

As a member of the ABC Transportation Management Association, staff have access to:
With a Gold Corporate membership to Hubway, staff has access to fully subsidized annual memberships. 
ABC provides a 50% subsidy towards the purchase of a monthly transit pass.
ABC provides access to the federal bike benefit of $20 per month.
Staff are encouraged to walk, bike or take transit to meetings and events.
In 2014, ABC will: 

Purchase 2 office bike helmets to encourage biking to business meetings.
Work with the property owner to secure bike storage in the property basement.
Work with the City of Boston to secure a bike rack outside the ABC office.
Pursue a Best Workplaces for Commuters Award.
Pursue a Boston Bike Friendly Business Award.
Waste Actions

Printers are set to produce double sided pages and eliminate printing banner pages
Email signatures include: If you need to print this email or any attachments, please reuse and recycle the paper.
All eligible paper materials, plastic, aluminum and glass materials are recycled. 
Reusable mugs, glasses, silverware, plates, and napkins are used. 
All CFL bulbs, batteries and electronic waste is recycled in hazardous waste bins.
French press coffee is provided for breakfast meetings.
In 2014, ABC will: 

Use a weekly composting service for all food waste.
Awards and Recognition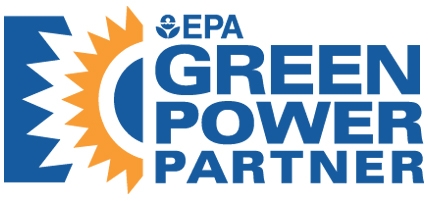 A Better City offsets 100% of its electricity use with wind power renewable energy credits.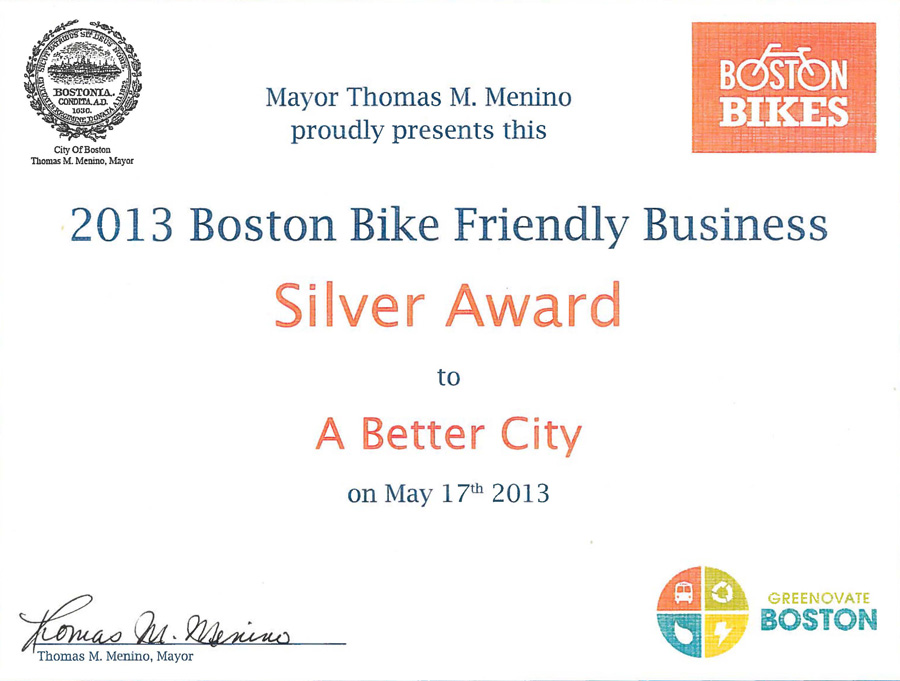 A Better City was recognizedas a Silver Bicycle Friendly Business from the City of Boston in 2013.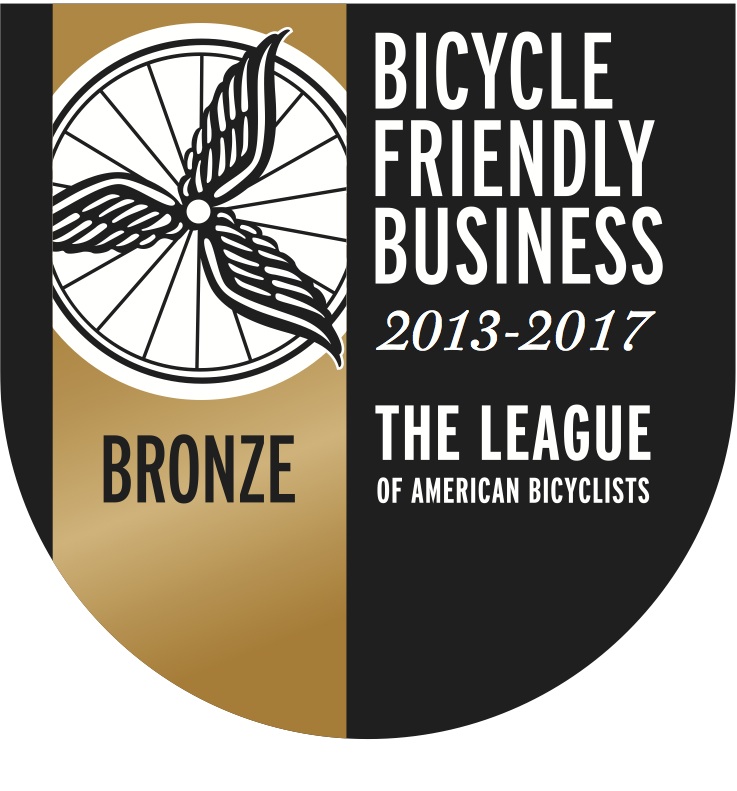 A Better City is working towards a Silver Bicycle Friendly Business Award from the League of American Bicyclists for 2018!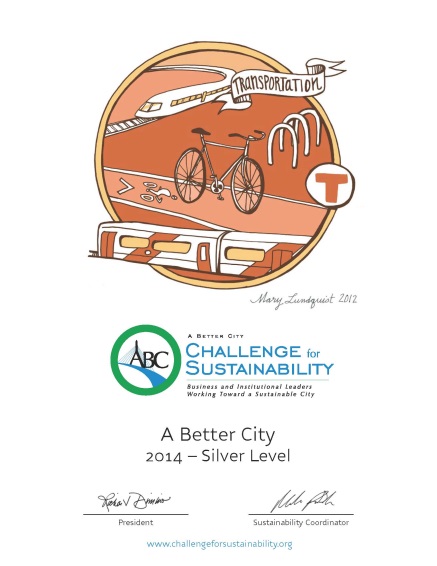 A Better City was awarded a transportation certificate at the Challenge for Sustainability Awards ceremony for meeting or exceeding its 2013 & 2014 transportation goals.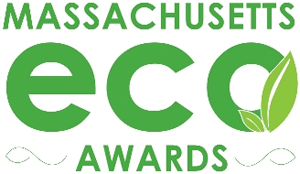 A Better City received a Pacesetters Award at the Massachusetts Excellence in Commuter Options (ECO) Awards to celebrate its efforts to reduce congestion and greenhouse gas emissions by encouraging employees toutilize more sustainable transportation options.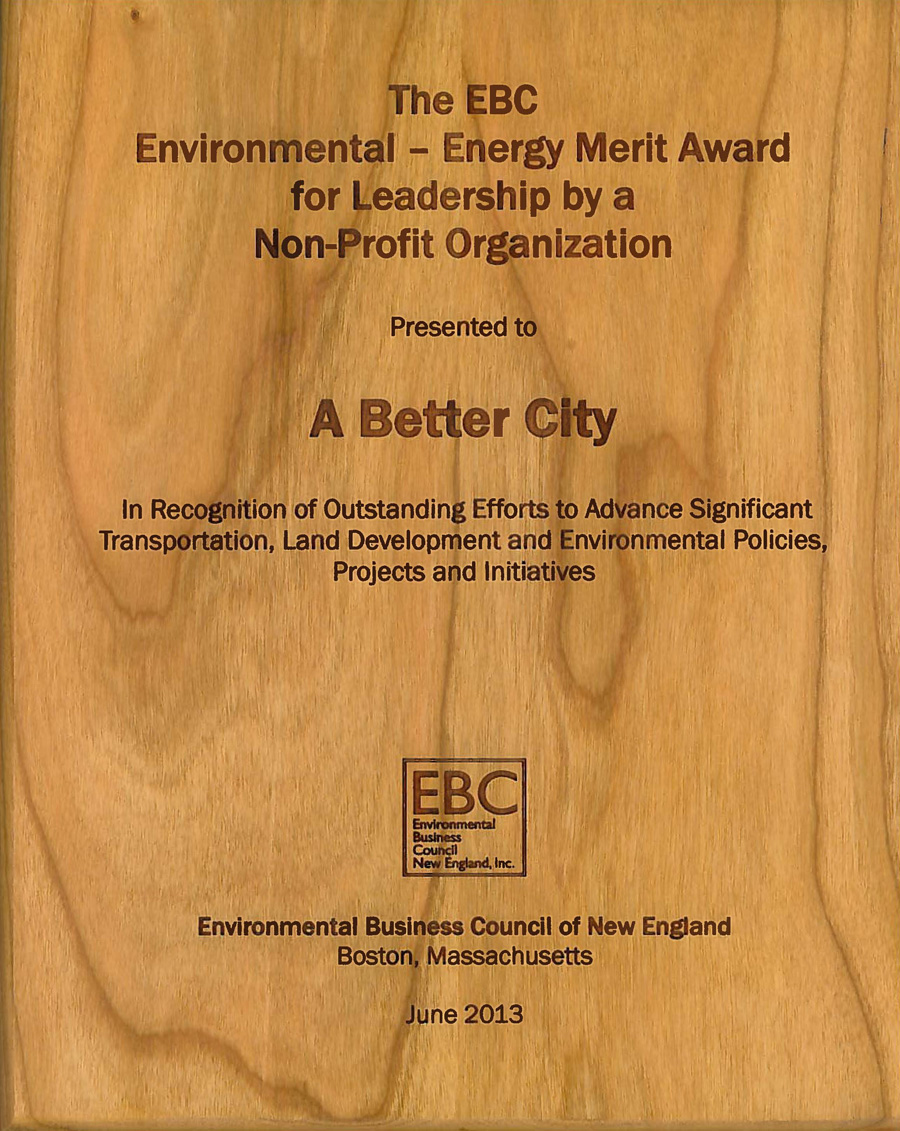 A Better City was honored to receive the 2013 Environment Business Council (EBC) of New England'sEnvironmental – Energy Merit Award for Leadership by a Non-Profit Organization for outstanding efforts to advance significant transportation, land development and environmental policies, projects and initiatives.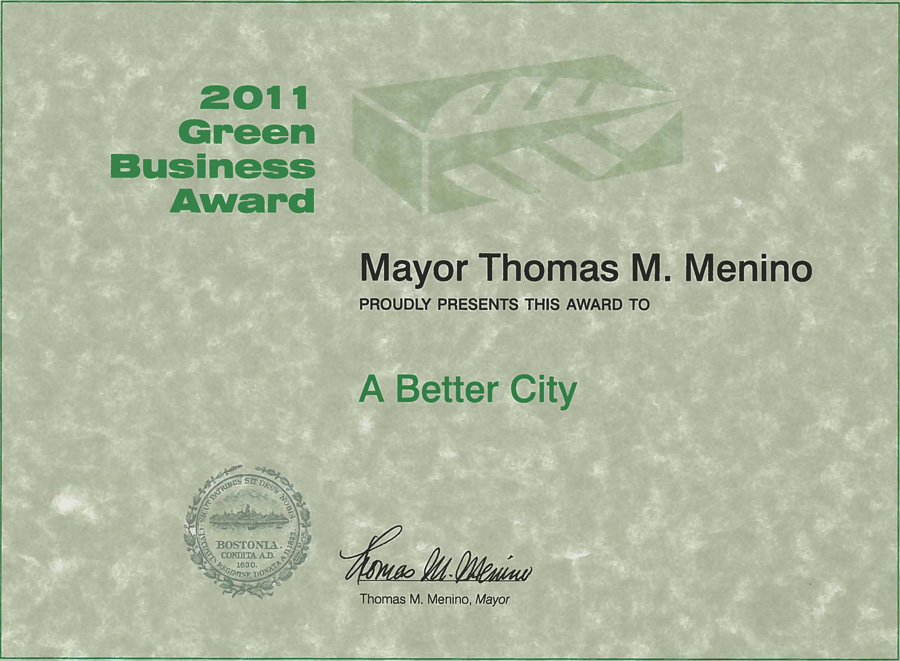 A Better City was one of 12 businesses receiving the 2011 Green Business Awards from the City of Boston, by demonstrating extraordinary performance related to sustainable environmental practices.
Environmental Committees, Partnerships, and Affiliations
Boston Green Ribbon Commission
City of Boston Climate Action Plan Steering Committee
Massachusetts Global Warming Solutions Act
Implementation Advisory Committee
MassDOT GreenDOT Advisory Council
Municipal Harbor Plan
U.S. Green Building Council
U.S.  Green Building Council Massachusetts Chapter
Association for Commuter Transportation